Sign In

Some services are not accessible on smartphone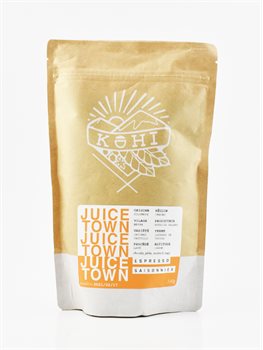 Press and move to zoom.
Mouse over image to zoom.
Kohi - Juice Town
The farmhouse
Laderas Del Tapias
is located in the village of Neira, in the region of Caldas.
A region where coffee production dictates the local economy, but, as in too many regions, producers find it difficult to get the money they deserve for their production, season after season.
We are working for the first time with
Campano Coffee
, chaired by Nicolas Meija who is of Colombian origin and now based in Montreal.
It gives access to the North American specialty coffee market to various producers, including Rodrigo Pelaez and his entire family.
Juice Town
is very juicy and will mix wonderfully with all types of beverages. From espresso to latte,
Juice Town
will show you its sweet notes, season after season.
Chocolate, peach and red apple notes.

TYPE: Single Origin

COUNTRY: Colombia

REGION: Neira, Caldas

FARM: Laderas Del Taipas

PROCESS: Washed

VARIETIES: Caturra, Castillo

ALTITUDE: 1900 m

(340 g)